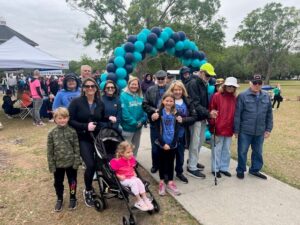 The Foundation Fighting Blindness was established in 1971 by a group of passionate individuals driven to find preventions, treatments, and cures for blinding retinal diseases that were affecting themselves or loved ones. At the time, very little was known about these devastating retinal degenerative diseases that lead to blindness.
The Foundation's goal was clear: To drive the research that would lead to vision restoration for the degenerative retinal diseases – including macular degeneration, retinitis pigmentosa, Stargardt disease, and Usher syndrome – that together affect more than 10 million Americans and millions more throughout the world. Today, the Foundation is the world's leading private source for Inherited Retinal Disease research funding.
The Foundation Fighting Blindness believes that the best way to help individuals with blinding retinal diseases is to restore their sight, and to ensure that others do not have to walk the same vision-loss journey. This can only be achieved through a laser-focus in the investment of innovative research that leads to preventions, treatments, and cures for blinding diseases. In fact, there is no better way to help those with vision loss than by ending blindness. We are solving this problem at its root and as such, we are the global leader within this disease space.
For over 50 years, the Foundation has raised almost $900 million and funded thousands of research studies at hundreds of prominent institutions around the world. Foundation-funded researchers have played a significant role in identifying almost 290 genetic variations causing several rare retinal diseases. In 2022 alone, the Foundation Fighting Blindness funded 81 grants total, representing 105 investigators at 70 premiere institutions. In addition, we provide:
A national network of over 40 volunteer chapters that raise funds, increase public awareness, and provide support to communities
My Retinal Tracker Registry, a database of over 24,000 individual records, which represents 10 percent of the Inherited Retinal Disease community
Free genetic testing and counseling for affected patients, which allows them to learn more details and treatment options about their exact blinding diseases
Public education programming, signature events, and support efforts that engage and assist the blinding disease community
The Foundation has and continues to pioneer cutting-edge, scientific advances in promising areas such as genetics, gene therapy, retinal-cell transplantation, neuroprotection, and pharmaceutical therapies. Through its support of focused and innovative science and by partnering with our generous donors, the Foundation drives the research that will provide new treatments and cures for people affected by retinal degenerative diseases. Together, we are winning. Visit www.fightingblindness.org to learn more.