February 6, 2009
Bill Chatlos: 30 Years of Extraordinary Service and Dedication in the Fight Against Blindness
In the mid 1970s, Bill Chatlos and his wife, Janet, had a tough time getting information about the retinitis pigmentosa that was stealing Bill's vision. Doctors knew very little about the condition, and researching the Internet wouldn't become a reality for another 20 years. Bill says that ophthalmologic text books at the library had only a page or two describing RP.
But one evening, Bill and Janet saw a defense firm's television ad showing how night-vision goggles were helping a woman with RP to see better in the dark. The phone number for the RP Foundation (the original name for the Foundation Fighting Blindness) was given at the end of the spot. Janet called the number, and the rest, as they say, is history.Shortly thereafter, Bill became president of the Foundation's Central Florida Chapter, and in 1978, joined the Board of Trustees. When FFB's Board of Trustees became the Board of Directors in 2003, Bill became a director. For 30 years, Bill served in key leadership roles on the Board including secretary, treasurer, and vice chairman. And through the extraordinary generosity of his family and The Chatlos Foundation, he played an indispensable role in driving research. Bill retired from the Board in early 2008 and remains a trustee.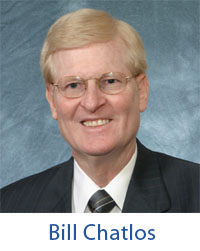 Gordon Gund, chairman and co-founder of FFB says, "Bill's multi-faceted support of FFB effort has been, and continues to be uniquely special. Whatever his title or role, whatever the state of his own sight and whatever the challenge, Bill always comes forth with what is need ed to continue to move us forward. His wisdom and insight, his humor and omnipresent positive attitude, and his generosity in so many thoughtful ways are indelibly imprinted on the Foundation's fabric of increasing success. Along with all who have worked closely with Bill on Foundation matters, Lulie and I have the utmost respect for him and Janet and regard them as very special friends."

One of Bill's pivotal accomplishments with FFB was his work in establishing the William F. Chatlos Professorship of Ophthalmology, which enabled Dr. Eliot Berson's tenure as a professor of ophthalmology at Harvard University Medical School. "We were blown away by Dr. Berson's abilities," recalls Bill. "At the time, in 1978, he was a young, up-and-coming physician and faculty member with impressive credentials and numerous awards." For decades since, Dr. Berson has been regarded as one of the world's top retinal physicians and researchers.

The professorship was actually named after Bill's grandfather, William Frederick Chatlos, who first established The Chatlos Foundation, and was a great mentor and inspiration to his grandson. Bill describes his grandfather as a stoic, self-made man who achieved noteworthy success in real estate development. Bill says, "As a young boy, he earned money for his family by carrying lumber between construction sites. He eventually earned enough to buy a wheel barrel, and later, an old truck. By the time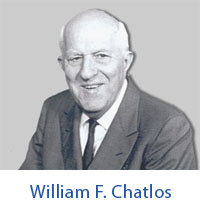 he was 16, he had built his first house from the ground up, and had a crew working for him. He took drafting classes at the YMCA to learn how to draw architectural plans." During the Depression, William acquired real estate and stock at pennies on the dollar — a strategy that later yielded excellent returns.
As a young teenager in South Florida, Bill worked on his grandfather's construction sites, doing everything from painting to roofing. At the end of the week, he went to his grandfather's house to collect his wages and play chess. "We didn't spend a lot of time chit-chatting. We mostly played chess," says Bill. "If his broker called during a game, he'd become distracted enough that I might win. But then he'd give me a good thrashing the next game."
After college, Bill joined Sears, Roebuck and Co., serving in managerial roles in a variety of locales, but eventually settled in Central Florida where he went into commercial real estate development. He and Janet have been married for 39 years and have four adult children and three grandchildren. Only one other member of his family, a great nephew, has developed RP.
Bill looks on his FFB tenure with great awe of his co-leaders. "FFB leadership has always had tremendous intellectual talent and moral fiber. Gordon Gund is absolutely phenomenal and amazing. He's a great leader. People are very drawn to following him."
He adds that the early days at FFB were challenging because "we didn't know what we didn't know. Early on, we thought all we had to do was find one gene. That, we thought, would be the key. Now scientists have found more than 140 genes that cause retinal degenerative diseases. Every time we determined that some approach wasn't the answer, we moved forward to find a better approach."
Bill is very enthusiastic about the recent success in clinical studies of gene therapy at The Children's Hospital of Philadelphia. "It looks like we may have a cure for that form of LCA," he says. "And we owe it to future generations to find cures for all the diseases. As we always say, we are in business to go out of business — to completely put an end to blindness."
In early 2008, FFB's Board of Directors issued a resolution of appreciation to Bill for his service to the mission. The resolution stated, "in honor of the dedication and indispensable service of William J. Chatlos whose support and counsel to the Foundation has been instrumental to the extraordinary progress that has been made toward our goal of finding treatments and cures for all retinal degenerative diseases."
If you would like to learn more about the work of the Foundation Fighting Blindness for yourself or a loved one visit: http://www.blindness.org/.