Alice Lloyd College is tucked away in beautiful Pippa Passes, Kentucky. The school is named after its co-founder Alice Spencer Geddes Lloyd, a Boston publisher and editor.  Her newspaper The Cambridge Press was the first publication in America with an all-female staff.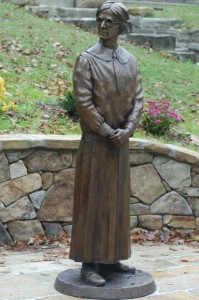 Mrs. Lloyd came to Ivis, Kentucky, in 1916 seeking a milder climate for her health.  She quickly determined there was a great lack of education in the area, upon moving to Caney Creek in 1917 she established Caney Creek Community Center, Inc. to provide basic social services and education for area children.
In 1923, she and her friend June Buchanan established the school then known as Caney Junior College.  The College was renamed in Mrs. Lloyd's honor after her death in 1962 and made its transition to senior-college status in 1982.
Today the four year liberal arts college provides a quality education emphasizing Christian values, character, service and high personal standards. The duel slogans "A Light Unto the Mountains" and "Providing Leadership for Appalachia" articulate Ms. Lloyds dream for the area.
Over 90% of the graduates are accepted into graduate and professional schools and 75% of graduates are the first in their families to obtain an undergraduate degree, according their website.
Students are required to work, at least 160 per semester, in a work-study program regardless of their financial situation.  The Chatlos Foundation is honored to support such an innovative educational opportunity that helps students graduate from college without over whelming debt.
Joe Alan Stepp, the current president, was named to the post in 1999, and is the first native of Appalachia to become ALC's president.  In a recent letter he reported, "Alice Lloyd College is one of only seven work colleges in America requiring full-time students to work as a condition for enrollment.  It is the only four-year liberal arts college in the nation actively recruiting students exclusively from Appalachia."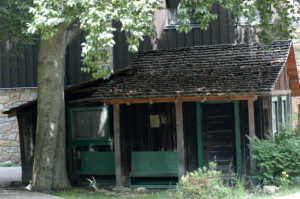 FOUNDERS SHACK
Here are some excerpts from recent Thank You Letters to the foundation from students receiving aid from the Work Study Program grants.
"I am a sophomore at Alice Lloyd College majoring in math education. Last year I worked as a dorm janitor for my work-study project.  This year, I am a resident advisor.  The work-study program offers many opportunities. It helps students not only with tuition, but also provides experience for future employment.
The guaranteed tuition relieves a lot of stress…  It allows students to focus more on their education…I would have struggled to pay for college if it weren't for Alice Lloyd…I am thankful to you and The Chatlos Foundation for your help" 
Victoria
"My name is Katherine.  I am writing to thank you and The Chatlos Foundation, Inc. for your gift to Alice Lloyd College.  I am a sophomore History/Pre-Law major.
A friend told me about Alice Lloyd College and their tuition guarantee.  I went on a campus tour and fell in love with the school and the friendly people.  It took a lot of stress off of my family to know I could go to college and not go into debt.  Thank you for giving me the chance to achieve my dream of going to college."
"I have dreamed of becoming a doctor ever since I was young, and now that I am at Alice Lloyd College, I am one step closer to achieving my goal.  Your work scholarship has allowed me to have one less thing to worry about paying for this year.  I am glad to have the opportunity to thank you for your generosity.  Without scholarships like yours, there would be many students such as myself unable to pursue the career they've dreamed of."  Ryan
The Chatlos Foundation was first approached by Alice Lloyd in 1997 as they were seeking a grant for their unusual work-study program.
It is indeed our pleasure to introduce you to Alice Lloyd College. Visit their website at www.alc.edu to learn more about this outstanding school.