The Chatlos Foundation, Inc. first supported the Orlando Regional Trauma Center in 1992.  The work that has been accomplished there is beyond imagination.  This story is just one of thousands that could be told.
Almost Dead in the Water
by Dave Seanor, Featured in Orlando Magazine
His legs shredded by a boat propeller, Nate Winters nearly died on Lake Maitland in 2008. After losing his left leg and undergoing numerous surgeries to save his right foot, the teenager still held out hope of playing baseball again. This spring, Nate made his comeback as a pitcher for Winter Park High.Media coverage of Nate's saga has been narrowly focused on the comeback angle, an inspirational tale of a young athlete who lost a leg but not his desire to compete. Yet the medical story behind this "Miracle on the Mound" is every bit as compelling. "That boy was on the other side of this world," says Dr. Wadih Macksoud, the orthopedic surgeon who repaired Nate's right leg. "He was dead."

After Nate fell from the boat that fateful day, he essentially had been drawn into the whirling propeller, ground up and spit out. It's rare for surgeons to deal with such carnage. "If more than one limb is severed, the person usually dies before they can get to the hospital," says Macksoud. "We never see them."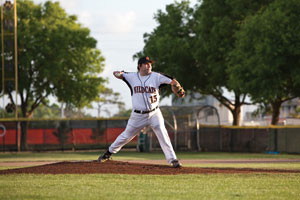 Nate was beyond lucky. Had the propeller blade gouged his rib cage a half-inch deeper, it would have punctured his lung, resulting in certain death. The spinning blades narrowly missed his spinal column, as well; had they severed his spinal cord, Nate would have been a paraplegic—if he'd survived. Had he succumbed to panic and not swum to the boat . . . had the 911 call not been made so quickly . . . had his brother not applied the tourniquet . . . had the emergency services team not been so efficient . . . had the medevac helicopter not arrived so quickly . . . and had Nate not been rushed to Orlando Regional Medical Center's Level One Trauma Center—one of seven in Florida—friends and family would have been visiting his grave instead of celebrating his baseball comeback.
By the time Nate arrived at the hospital—35 minutes after the 911 call—he had lost nearly 80 percent of his circulating blood. His hemoglobin count was 3.1—too low, in most cases, to sustain life. "After he was resuscitated, we were worried that there wasn't enough blood running to keep his brain functioning," says Macksoud. "I was concerned that when he woke up, would he still be Nate?" His mere survival, says Macksoud, "was like winning the lottery 10 times over."
For the entire article, please log on to orlandomagazine.com
http://www.orlandomagazine.com/Orlando-Magazine/June-2010/Almost-Dead-in-the-Water/