Stetson University is nestled on 175 acres in DeLand, Florida and is listed on the National Register of Historic Places.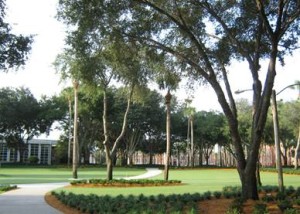 Stetson President Wendy Libby encourages prospective students to visit the campus:
"From the first time you set foot on campus, you will fall in love with the architecture and grounds and the spirit of her people-a close-knit, inclusive community where personal interaction and social justice are valued…at Stetson you will be engaged in interactive teaching-learning focusing on you as an individual and a whole person.  You will be prepared to explore your passions and potential in the real world."
As stated on their website: "Since 1883, Stetson's vision has remained constant: engaging students with challenging academics and instilling values for life; educating those who are daring enough to pursue not just success, but significance.  At Stetson, students develop the ability to explore more deeply, think critically and express ideas clearly and creatively across many challenges.  Our commitment is to engage students in every aspect of their academic and campus life, to nurture the values and skills necessary to rise above personal challenge and shape the future."
The Chatlos Foundation first awarded Stetson a grant in 1992.  In 2008 Stetson established the First Generation Scholarship Fund. This fund is designed to support first-generation students and guide them toward success.  Approximately 42% of students that entered the university in 2010, will be, upon graduation the first generation in their families to complete their undergraduate degrees.  What a fantastic accomplishment.
Here is a portion of a letter from a young recipient of a Chatlos scholarship…"This scholarship has inspired me to do my best in all the courses I take in order to make both the donors of my scholarship as well as my family proud of me. It has also made me realize that there is no limit to what I can do if I put my all into it.  With support from my scholarship donors, my family, and my professors at Stetson I have been able to move forward and continue my education." …Rebecca
Rebecca has been on the Dean's List for six semesters; she is a member of Phi Beta Kappa and member of American Medical Student Association.
Visit www.stetson.edu for more information about the college.